Here are some photos of my "modern" machines, the machines that I got new:)

My first machine!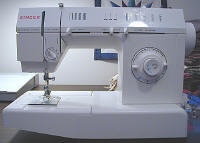 This is a Singer 5825. My husband bought me this. It is a great machine. I have made curtains, clothes and quilts on it!

My little machine!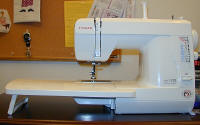 This is a Singer 132Q featherweight. I guess it's the modern day version of the Singer 221 featherweight. It is very light and very functional! Since it is the Quilting model, it even came with the patchwork and walking foot. This little one has gone to a new home.

The traveler!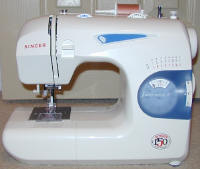 I got this little machine to take to workshops, retreats and sewing days. It is Singer's new modern day Featherweight. It's called Featherweight II or Model 117. It weights about 11 lbs. This little one has gone to a new home.

Jujube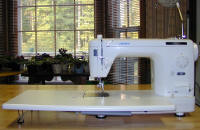 This machine got it's name, Jujube or JuJu for short, from her name brand, Juki. She is a model TL 98-E. This is a straight stitch only machine, but it is fast! All of my quilting will be done on this machine from now on. It has a large extension table which is so nice, and a thread cutter too!

Singer Izek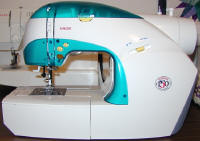 This is a sewing machine that comes with a Nintendo Game Boy interface for custom stitching. Too Cool! He went to a new home too!