I started quilting in January 2001. What got me started?
I had always thought that making a quilt would be a fabulous experience, but
never thought that I would do it.
Hand quilting is so pretty and delicate but with carpal tunnel, I knew that hand quilting would not be something I could do on a quilt, even the smallest size. I looked around on the internet and learned that everything could be done on a machine. This opened up the world of quilting to me! So I took the plunge!
Here are some of the things that inspired me to learn how to quilt.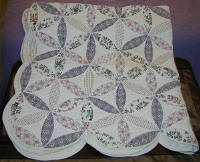 This is a quilt I have had with me all my life! When my mother was pregnant with me, someone gave this to her as a baby shower present. I truly believe this was the seed that started my obsession, I mean love:D, of quilting! The pattern is called Orange Peel and look at those beautiful scalloped edges!

The other thing that caused me to go online and search about quilting is a series of romance novels, Welcome to Tyler. Each book is named after a quilting pattern and in the books there is a cute and friendly group of ladies that gossip and quilt. The make a quilt for all to be wed couples in the town, and the pattern they are making always seems to go along with the couples romantic journey.