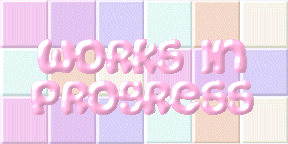 Here are my current works in progress.
Some are quilts, swap blocks, sampler or mystery quilts.
(click each picture to view a larger image.)

Hugs and Kisses Quilt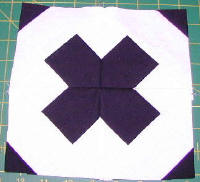 I also have a black and white Hugs and Kisses quilt waiting to be worked on.
Here is a picture of a block...when four are joined together the corners of each block will create a O for the X's and O's.

Irish Chain Quilt
I also have an Irish Chain quilt planned. Here are the fabrics used for this quilt...they washed out a little.

Log Cabin Quilt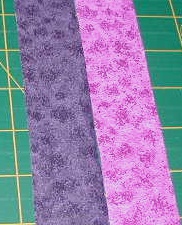 I also have the strips for a Log Cabin quilt cut out and waiting for assembly:)
Here is the fabrics being used for that quilt.

Log Cabin Quilt -Slightly Skewed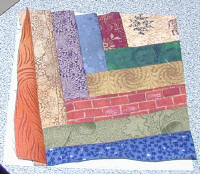 This is a paper pieced block that I am planning to use to create a different kind of log cabin quilt.
The fabric I am using came from a Strip Swap I was in.

North Carolina State Flower Block Swap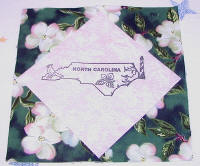 This is my block for the Northcott State Flower 50 States swap. My state, NC, has the dogwood for our flower.
The pink tone on tone really compliments the highlights in the dogwoods:)

Blissful Dreams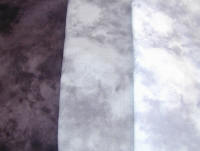 I am doing a mystery quilt from Down Home Quilting. It is called Blissful Dreams, and we were to choose a light, medium and dark in the same color family.
I choose a dark charcoal, medium grey and a light grey:)

Other Projects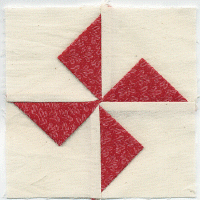 I also have 3 sets of International Dear Jane swap blocks, a Jane A. Stickle quilt in progress, 2 Big 5-0 swap, 2 sets of Nifty Fifty 15 swap and several other swaps and swapped blocks:)
Above is a picture of one of the blocks I made for the IDJ Swap.