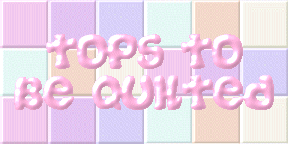 Here are the tops I have pieced together. They are waiting until they get to be quilted:)
(click each picture to view a larger image.)

Harlequin Fancy - Mystery Quilt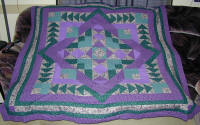 Here is a picture of the top:) I'm looking and thinking about the perfect way to quilt this.
This mystery quilt and the monthly sampler stars came from Down Home Quilting http://downhomequilting.hypermart.net

2001 Monthly Star Sampler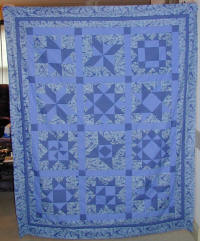 This top was made from a online pattern from Down Home Quilting.
Each month of 2001, another star pattern was released and then the finishing instructions at the end of the year...I really like how the stars stand out:)

Black and White Free For All Top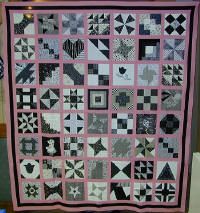 These blocks came from a swap. No colors except black and white are in the blocks and they are 6".
I think the pink sets them off nicely:) Now to find the time to quilt it!

Friendship Swap Top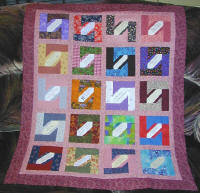 This top is made of blocks from LCS's Friendship swap. I used a coordinating print for the sashing and the border.
I hope to make another top with Birthday blocks from a bee, then they will be back to back.

Wizard of Oz Swap Block Top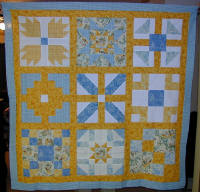 This quilt top is made from blocks from the Wizard of Oz swap that was hosted at The Cozy Quilt Patch.
The theme was Wizard of Oz, and we used that fabric line along with Kona white.

The Ugly Duckling Top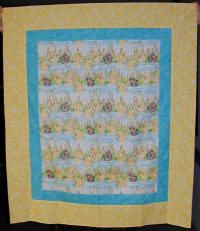 I saw this fabric and just loved it! It was part of a little quilt fabric kit.
I'm looking for a nice backing and then on to the hard part of figuring out how to quilt the little duckys!

Nifty Fifty 13 - Civil War Reproduction Fabrics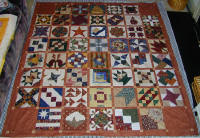 This top is made from the Nifty Fifty Quilters Swap #13. Each block represents a state, D.C or a general USA block. The focus fabrics were from Benartex's Savannah line. Those fabrics didn't have to be used in the blocks, but the fabric each person chose had to go with the focus fabrics.
I used a brown tonal fabric for the sashing, with a flower cornerstone. The brown will be used for the backing as well. I hope to quilt in the blank squares the dates, the NF swap and other sentiments.
Thanks to all the ladies...it is an awesome top! This one will be cherished by me, always!

Purple Passion and Cream, Please! Top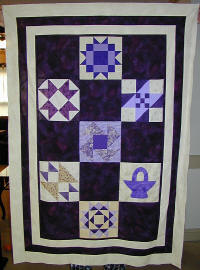 This top was made from the one set of blocks I did for the Purple Passion and Cream, Please swap.
To make the top a bit bigger, I decided to add plain blocks. The plain blocks and a couple of the borders are purple Fossil Fern fabric. The Cream borders are Kaufman scroll print...the binding will also be this scroll fabric. The backing is a pretty purple fabric with cream flowers on it.
Now to find time to quilt it. I am hoping to do a feather wreath in the plain blocks, and maybe stitch in the ditch or outline quilting for the swap blocks.

Rings of the Rainbow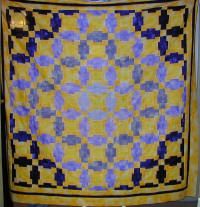 This was the Summer 2002 mystery quilt from Down Home Quilting. There is a naming contest going on for the pattern but my submission was Rings of the Rainbow.
Part of the borders are not visible in the picture but they really are there...its just too big to hold up and get it all in the shot so I did the best I could:) Will have to lay it out when its quilted and bound.
I did my quilt in all Benartex Fossil Fern fabrics, the two primary colors were two shades of yellow and then the six accent colors, I used 6 shades of purple, going from light to dark. I really think the colors bring out the great pattern.
There was a stencil given to help you with quilting this pattern. Not sure if I am going to use it yet, but I think it is very pretty so I just may whenever I get a chance to quilt it!

Purple Star Hunt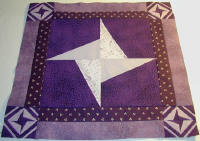 This little top was put together from a star block that I had from a birthday block swap. I put it together thanks to Deb, Quilter in the Woods Remembrance Quilt Hunt!

Bali 5-0 Swap Top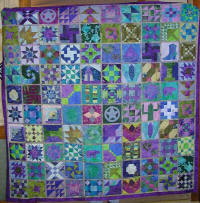 This top is put together using my two sets of the Bali Big 5-0 Swap blocks. The swap fabrics were to be purple, blue and green Bali batiks and hand dyes. Each person signed up for a state and made a block to represent the state.
I made the top using 100 blocks, set 10 by 10 with a 1/2" sashing. The binding and backing will be out of the same fabric as the sashing.

Behind the Shadows Chinese Top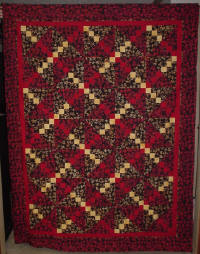 This top was made from the book, Batik Beauties, in a class on the Behind the Shadows quilt. I used two batiks, black with red Chinese characters and black with gold Chinese characters. The "chains" on out of hand-dyes in red and gold. I am going to use a red bamboo fabric for the backing.

Harmonic Convergence Top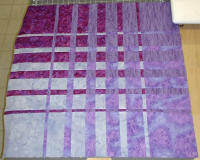 I made this top in a class for the Ricky Timms technique, called Harmonic Convergence. Not sure what border I should add to it, or if I should leave it plain.

Mailbox Mystery Swap Top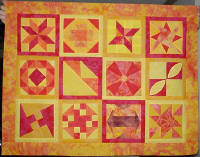 This top is made from a swap called Mailbox Mystery. There was a color theme of red, orange or yellow Bali hand dyes or batiks. Participants were split into groups of 6 and each person made 6 blocks and sent one to each person. I joined two groups, and sashed the blocks in red, orange or yellow hand dyes and the border is a multi colored Bali hand dyed fabric.

30's Bows and Bows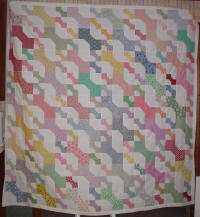 This top is actually made of blocks from two separate swaps. I was in an 8" bowtie swap in 30s reproduction fabrics and Kona white. Then one of the ladies posted a pic of her top, with some little 4" bows in the borders. It inspired this setting in my mind, but I didn't want to buy 120 pieces of repro fabric to get a bunch of little bows, so I talked the original swap hostess into setting up a 4" bowtie swap if I swapped them out. I think these blocks are so cheery!
I am going to bind this with a lot of different 30s fabs, maybe with 1/2" showing on the front to frame it up. I plan to back this in an Aunt Grace flannel I have used on lots of baby quilts...why? Because I love that fabric!

Autumn Leaves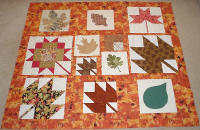 This top is from a swap of fall colored leaves. There were several different sized blocks in a set, 14, 12, 10, 9, 8 and 6 inches. I made two sets and combined them both into one top...I really like this orange fabric, it has leaf impressions on it. It will be used for part of the backing...need to find a complimentary fabric to put about 6" wide frame around the orange fabric.

Whispering Bamboo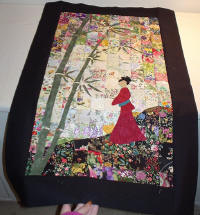 This top is from a watercolor kit, called Whispering Bamboo.

TRPQG Mystery Quilt - Cabin in the Stars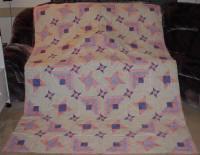 This top is from our local guild's mystery quilt. Tamara Kennison from Down Home Quilting, created a mystery quilt for us to test. The pattern has been named Cabin in the Stars. It does have borders on the top, I just didn't take a picture of it after I put them on.

Shoebox Swap Top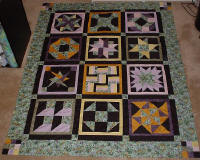 This top is is made from a shoebox swap that was done with my bee, the "Busy Bees." Twelve of us each filled a shoebox with a focus fabric, a background fabric and several FQs of accent fabrics. Each month we swapped the blocks and made a block for each member...everyone made the same block for all twelve boxes. When the boxes got back to the owner, we all looked at the blocks...it was amazing how different the same block looked in different fabrics.
I choose a butterfly fabric as my focus fabric and a black Moda Marble for the background. My accent colors were Moda Marbles that picked up the colors of the butterflies. I surrounded my blocks with one of the accent colors and then sashed them with the black. The borders are the butterfly fabric...I think the results are amazing!