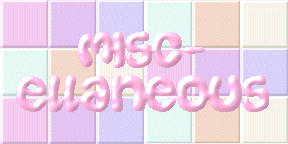 Bandana Tote
This is a simple tote bag I made out of some fabric that I really like!

Stuffed Bunnies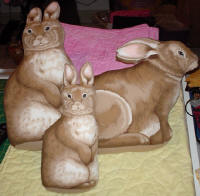 I made these for charity. Two big bunnies and one little one...I hope a
little one can cuddle and love them!

Camera Bag
I bought a new camera, and wanted a case for it, however the one you could buy for it
did not let you put the strap in the bag also...so I decided to make my own:)

Butterfly Tote Bag
Outside
Inside
This was made for my mom:)

Gift for Christmas Party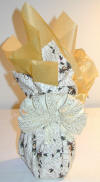 Our guild had a Christmas party and we were having a gift exchange.
You were to bring notions wrapped in a FQ all totaling under $10.
This is the way I wrapped the notions, the gold is tissue paper and the cream is the FQ.

Blankets for the local hospital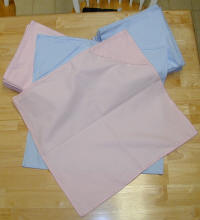 The local hospital uses these blankets to wrap stillborns in so that the family can see and
hold the baby. The blankets are then placed in a memory box for the parents.
I made 14 blue and 14 pink, hopefully these will last them a long time!

Snakes!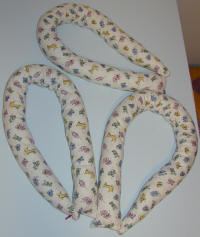 These are called snakes. They are positioning rolls for infants.
They are made out of an adorable Aunt Grace flannel. These are going to my guild for
one of our charities, the local hospital.

Amish Sand Doll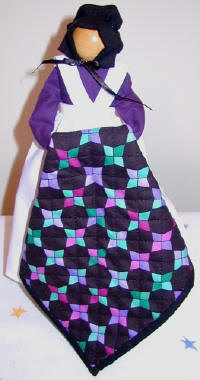 This little Amish doll I bought at my guild's auction. Isn't she too cute.

Stuffed Characters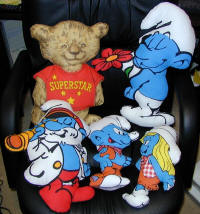 These stuffed characters were made from fabric panels for my local guild's charities.

Sammy the Snowman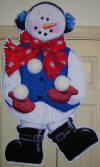 Maybe Sammy should join the circus!

Rudy the Reindeer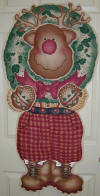 Rudy is the Wreath Holder, hehe...Let's just hope he doesn't get stuck in it!

Joy, Joy, Joy

This snowman is holding up JOY and a star!

The Greeter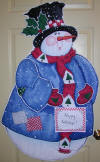 This little fellow is waiting for guests to greet!

Thimble Ornaments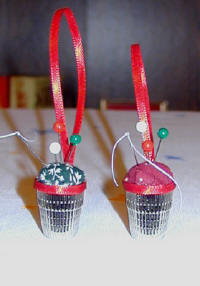 These are 2 little ornaments I made...Just thought up the idea and ran with it!

Christmas Stocking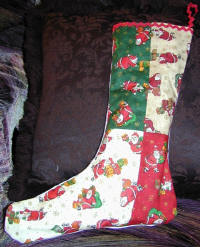 I participated in a swap for Christmas...we had a partner and we made them a stocking and filled it with goodies.
The stocking is made of 4 colors of the same santa print, the back is white flannel and it is also lined with white flannel. The red rick-rack goes along the top and is also the hanging loop:)

Mr. Wishbone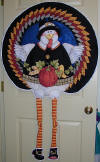 Mr. Wishbone is here for Thanksgiving...he's knees aren't knocking though.
He may be made with stuffing, but he's not going to be eaten!!

Scarecrow Jack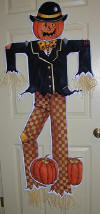 Jack is like Sam, except he hangs out for Halloween and Fall!

Coasters and Card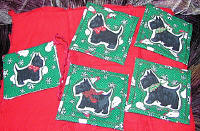 These are for my swap partner for the Christmas Quilter's Box.
They are a set of coasters and a card. My swap partner decorates with quilted dogs.

Fluffy Bunny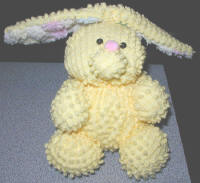 This cutey was a kit. He is adorable!

Ginger the Giraffe - Sewing Room Mascot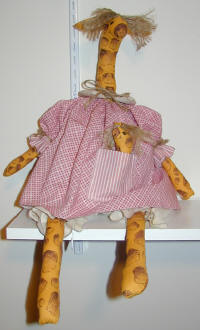 I got a fabric panel in a remnant bin for a quarter.
I had no clue what it was a panel for...tada, it was Ginger.
I fell in love with her and she now watches over all my fabric and unfinished projects!
She was lucky enough to win third place in the stuffed animals category
at the 2005 North Florida Fair.

Uncle Sam Scarecrow Door Hanging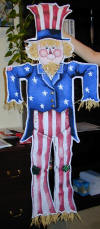 This isn't really a quilt, but the directions stated to sew around the outside edge.
He needed something more to add character so I "quilted" his face, jacket,
stars and patches so it gave him more life:) He will hang on a door for the holiday!